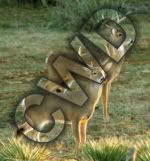 Here at
Outdoors with Othmar Vohringer
and
Whitetail Deer Passion
we recognizes the current threat that chronic wasting disease (CWD) poses for the deer, elk and perhaps other wildlife plus to the heritage of hunting big game in general that could occur if this illness should spread further. In several regions of North America this threat has become already a sad reality. This is why we here at Outdoors with Othmar Vohringer and Whitetail Deer Passion have compiled an informative resource of information so that the visitors to our website can learn more about this threat and what they can do to help in the prevention of the spread of CWD.
As hunters and conservationists we at Outdoors with Othmar Vohringer and Whitetail Deer Passion feel it is our duty to our fellow outdoor and hunting enthusiasts to provide the information available without the usual hype, rumours and hearsay. Instead we provide the facts, as they are known to us from reputable sources in an effort that you can take the necessary precautions and to learn what various state and province agencies in the USA and Canada are doing to combat this problem. For most hunters, especially those who hunt in areas where CWD has not been found do not be concerned about CWD and still can enjoy the upcoming hunting season. But we at Othmar Vohringer Outdoors would like to encourage all hunters who care about wildlife and conservation as much as we do, to get as much information and education about this illness as possible, to take all the necessary precautions and help their local wildlife management agencies in any way they see fit in preventing the spread of CWD in an effort to secure our priceless natural renewable resources for generations to come.. Thank you for being a true hunter and conservationist, we count on you and so do our children and future generation hunters.
Bellow we provide you with the answers to most CWD questions.
**************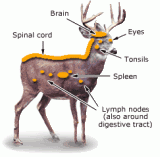 What is CWD?
CWD is a neurological (brain and nervous system) disease found in deer and elk in certain geographical locations in North America. The disease belongs to a family of diseases known as transmissible spongiform encephalopathises (TSE) or prion diseases.
This disease attacks the brain of the infected deer or elk and produces small lesions that result in the death of the animal. While CWD is similar to mad cow disease (BSE) in cattle and as scrapie in sheep, there is no known relationship between CWD and any other TSE of animals and, or people
.
How is it spread?
It's not known exactly how CWD is spread. It is believed that the agent responsible for the disease may be spread both directly (animal to animal) and indirectly (soil or other surface to animal). It is thought that the most common mode of transmission from an infected animal is via saliva and feces.
Where has it been found?
CWD is known to infect wild deer and elk in north-eastern Colorado and southern Wyoming, and wild deer in western Colorado, western Nebraska, south-western South Dakota, south-central New Mexico and west-central Saskatchewan. It has been diagnosed in game ranches in Colorado, Nebraska, South Dakota, Montana, Oklahoma, Kansas, Alberta and Saskatchewan.
Is it dangerous to humans?
There is currently no convincing evidence that the agent of CWD affects humans. However, public health officials recommend that human exposure to CWD agent be avoided as they continue to research the disease.
What precautions should hunters take?
Health officials advise hunters not to consume meat from animals known to be infected with the disease. Boning out meat is recommended. In addition, they suggest that hunters take normal simple hygienic precautions when field dressing carcasses.
How can you tell if a deer has CWD?
Infected animals may not show any symptoms of the disease. In some stages of the disease, however, infected animals begin to lose bodily functions and display abnormal behaviour such as staggering, disorientation or standing with very pore posture. Animals may have an exaggerated wide posture, or may carry the head and ears lowered. Infected animals become very emaciated (thus wasting disease) and will appear in very poor body condition. Infected animals will also often stand near water. Drooling or excessive salivation may be apparent. Note that these symptoms may also be characteristic of diseases other than CWD.
What should I do if I see a deer with CWD?
Unless your state or province wildlife agency or other appropriate authority has issued other instructions and/or regulations, you should accurately document the location of the animal and immediately contact the nearest officer or employee of the State or Province Wildlife Agency. Do not attempt to contact, disturb, kill, or remove the animal.
Can I have a deer tested?
In general, the answer is no if you live in an area where CWD has not been documented. Testing is currently only available in areas where CWD has been detected in wild deer. Much effort is being devoted to increasing the laboratories that are certified to do the testing.
Is the meat safe to eat?
While the agent that produces chronic wasting disease in deer and elk has not been positively identifies, there is strong evidence to suggest that abnormally shape proteins, called prions, are responsible. Research completed to date indicate that the prions accumulate in certain parts of infected animals-the brain, eyes, spinal cord, lymph nodes, tonsils and spleen. Based on these findings, hunters are recommended to not eat meat from animals known to be infected with CWD. Hunters in CWD areas are also advice to bone out their meat and to not consume those parts where prions likely accumulate.
What's being done to combat CWD?
Efforts to address CWD are accelerating rapidly. In facilities with captive animals known to have or to have been exposed to CWD, management is concentrating on quarantining or killing of every animal and burning of all carcasses. In some cases around captive populations, double fencing is recommended to prevent direct contact between captive and wild animals.
In wild populations, the management option recommended is to reduce the density of animals in the infected area to slow the transmission of the disease. This is being done by selective culling of animals suspected to have been directly exposed to this disease. In Colorado, Nebraska and Wisconsin large numbers of animals are being killed to reduce density of animals and thus slow the transmission of the disease.
There is still a large need for research on the disease as many questions go unanswered. There s also a need for increased funding to support additional laboratories for testing animals for the disease. Just about every U.S. State and Canadian Province wildlife agency is now planning an increased effort at surveillance to detect if CWD is present.
Many state and province agencies have banned the importation of deer and elk into their state or province.
Some U.S. States and Canadian Provinces have also halted intra-state/province movement of deer and elk has banned supplemental feeding programs. Colorado has implemented regulations that allow only boned meat, quarters (without spinal column or head) or processed meat from deer or elk to be transported out of certain areas with CWD. Clean skull plates with the antlers attached can also be removed from an infected area. Check with a state/province wildlife agency in the state/province where you hunt to determine if they have enacted similar restrictions.
For more up-to-date information please visit:
The CWD.Org. Website
Chronic Wasting Disease is a joint project of the Boone and Crockett Club, the Mule Deer Foundation and the Rocky Mountain Elk Foundation. These non-profit wildlife conservation organizations formed the Chronic Wasting Disease Alliance in January 2002 to address CWD. Other organizations have since joined the Alliance.
Updates about CWD on this Blog:
West Virginia CWD
Infectious Prions Found in Deer Meat