© By Othmar Vohringer
It's deer hunting season in some states and by October 1st in most other states hunters will venture into the woods full of anticipation too. Many hunters head to the woods each year not quite knowing how to improve their hunting success this year, while for others it will be their first hunting season ever. What ever the case may be here are two books I discovered, in the last minute before the season starts, that are a must read for every deer hunter looking to improve his or her hunting success this year.
Hunting The First State
A Guide to Delaware Hunting
By
Steven Kendus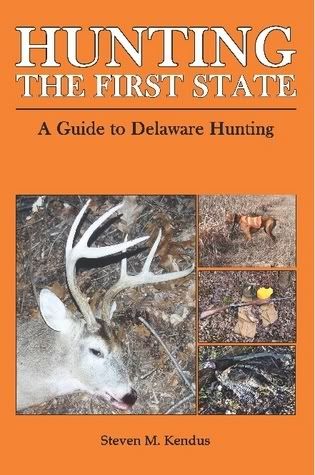 Perfectly situated on the eastern seaboard between the Chesapeake Bay to the west and the Delaware River, Delaware Bay, and Atlantic Ocean to the east, Delaware has proven to be a hunting paradise for local sportsmen. For centuries, outdoorsmen and outdoorswomen have harvested the natural riches offered by the wild game that inhabit Delaware's deciduous forests, salt and freshwater marshes, and cultivated crop fields. Common game, such as white-tailed deer, Canada geese, and varied species of ducks have been targeted by the majority of Delaware hunters, but woodcock, quail, snow geese, crows, squirrels, and rabbits are also plentiful in Delaware and provide Delaware sportsmen with hours of hunting enjoyment each season. Join Delawarean Steven Kendus as he uses his hunting wisdom, experience, and research to preserve Delaware's hunting legacy by sharing important history, tactics, locations, tips, and tricks associated with Delaware hunting.
Hunting the First State: A Guide to Delaware Hunting is the only book that comprehensively addresses hunting Delaware!
What's more, Hunting the First State includes useful hunting information that also applies to hunting in other areas of the Mid-Atlantic region, including:
Southeastern Pennsylvania
Southern New Jersey
Eastern Maryland
Hunting the First State: A Guide to Delaware Hunting is a must have reference for any hunter who hunts or who is considering hunting the Delaware region.
Find practical tips, tactics, and Delaware hunting locations for:


White-tailed Deer
Eastern Wild Turkeys
Eastern Gray Squirrels
Eastern Cottontail Rabbits
Bobwhite Quail
Mourning Doves
Woodcock
Crows
Ducks
Canada Geese
Snow Geese
Although the book deals mainly with hunting in Delaware, Southeastern Pennsylvania, Southern New Jersey and Eastern Maryland, knowing what an accomplished hunter Steven Kendus is I am sure some of his tips and tricks apply to other regions too.
To read more about the book or to purchase the book visit Hunting the First State

Mapping Trophy Bucks
Using Topographic Maps to Find Deer
By Brad Herndon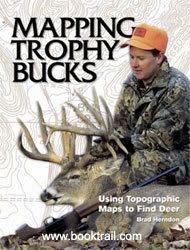 I have often said in my deer hunting seminars, and will keep saying it until the day I die, that the key to successful deer hunting is studying and knowing the structure of the land. This is especially so on hard hunted public land. Deer travel from fod source to bedding - or to escape hunting pressure – by utilizing the lay of the land and so do the trophy bucks when they chase does.
When Marc on his excellent blog
NYbowhunter
posted a review of Mapping Trophy Books I was very pleased to learn that finally a book has arrived on the market that I consider essential reading for every hunter regardless of skill level. Knowing how to use a topographic map and knowing the structure of the land and how deer use that structure will make scouting for that elusive trophy buck, or any deer for that matter, a snap. On 192 pages of Mapping Trophy Bucks author Brad Herndon teaches you how to use topographical maps and wind directions to pinpoint deer travel routes and to place your stands in advance of the deer season. This is likely the best $24.95 a hunter ever will spend.
To read more about the book go
here
. To read more or purchase the book go
here
If you're interested to learn more about my hunting seminars and clinics schedule, for more information or booking queries
contact
me.
Tags:
Hunting Books
,
Hunting The First State
,
Mapping Trophy Books
,
Steven Kendus
,
Brad Herndon
,
Deer+Hunting