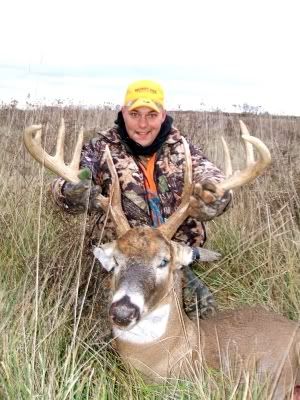 Hunter Dennis Rulli submitted this picture of a huge ten-point buck he harvested on December 1st. 2006 on his farm in Greenford, Ohio. The buck has tremendous mass and tall tines. The deer dressed out at 220 lbs. Dennis tells me, "This is a deer of a lifetime…". I bet it is! What a monster!
Unfortunately Dennis Rulli did not with what he harvested the buck and what he green scored. To me this buck looks like he easily could green score 176 B & C.
Congratulations Dennis on a terrific deer.
Your Shots 2006
To share your outdoor photo with
Whitetail Deer Passion
readers, send a copy in an
e-mail
to me and include your name, phone number, when the photo was taken, the photographer's name and the general area where the photo was taken. Plus any other information you are willing to share with the readers of this blog about the hunt.